LifeColor Lichens and Moss Powder and Colour Paint Set (22ml x 6) [LC-SPG06]
£16.50.
Create realistic moss, lichen and algae effects with powder and coloured fixer sets, SPG06 (Moss & Lichen) and SPG07 (Algae). The colours of both sets can be mixed to obtain new tones.
Apply Fixer Fluid with a brush to the areas onto which you wish to stick the coloured powder. The powder can be fixed by mixing them with Fixer Fluid or may be applied onto Fixer Fluid while Fixer Fluid is still fresh. Repeated applications allow to obtain large volumes of vegetation. The Fixer Fluid can be diluted with water. The powder of SPG06 and SPG07 can be mixed together to obtain new color tones.
This set includes:
POW 01 Sprout Green – Powder
POW 02 Lush Plant – Powder
POW 03 Fall Season – Powder
POW 04 Rotten Plant – Powder
FF 01 Gloss Lime – Fixer Fluid
FF 02 Gloss Muddy – Fixer Fluid
We have special stiff rounded cut brushes for applying LifeColor pigments/powders and applying and polishing LifeColor reflecting agent. Includes 2 brushes in a plastic envelope – size 2 and 4.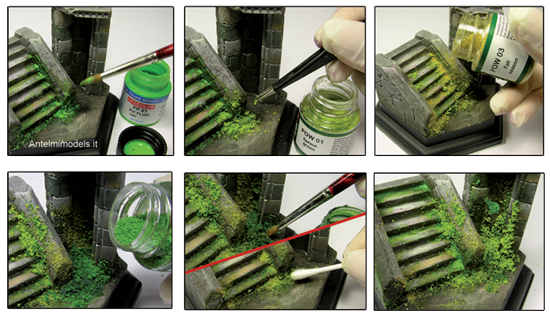 Effects produced using the LifeColor Lichens & Moss Powder & Colour Set
Price includes delivery to the UK mainland (excl Scottish Highlands). You can add this product to the shopping basket and pay with a credit/debit card, or with PayPal.