Water resistant digital calipers.
Features:
1 Fully protected against the penetration of liquids and are antimagnetic;
2 Ip65 – prevents dust,spray water or oil from entering the calipers through effective encapsulation of the main parts
3 Auto power off
4 Zero setting at any position
5 Inch/mm conversion at any position
6 Four-way measurement.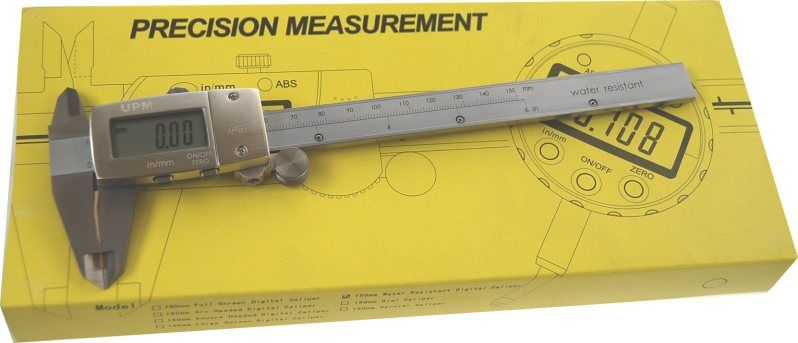 These Digital calipers offer you easy reading measurements in both English and Metric display without the need to read a Vernier. The Easy Glide action provides the smoothness and "feel" to make accurate measurements .Reads to 0.0005″(0.01mm).
They eliminate reading errors and make it possible for even unskilled operators to measure quickly and reliably.It permits four types of different measurements,
There is a scale on the main beam and all measuring surfaces are hardened . The jaws are lockable.
A spare battery is included and the unit is supplied in a nice plastic case.
Full instructions as well as a test certificate are included
Specifications:
Resolution:0.01mm/0.0005″
Repeatabilty:0.01mm/0.0005″
Maximum Measurement Speed:1.5mm/s-60″/s
Operating temperature:0 to 40 centigrade
Storage Temperature:-10 to 60 centigrade
Power:1.5v SR44(silver oxide cell)
Battery life:1 year continuous usage/3 years under normal operation
SPECIAL OFFER WHILE STOCKS LAST
£47.95 INCLUDING VAT & CARRIAGE UK MAINLAND 
NORMAL PRICE £60.30 !