LifeColor Shades of Black Paint Set (22ml x 6) [LC-CS27]
£15.99.

Water soluble acrylic colours for modelling and hobby. Life Color is excellent for paint brushing or airbrushing on plastic, resin, metal, vinyl, wood, cloth and ceramic.
This set includes:
UA 731 Dirty Black
UA 732 Vulcanized Rubber
UA 733 Tyre Black
UA 734 Worn Black
UA 735 Deep Cockpit
UA 736 Burned Black
Click on LifeColor Nationality Reference to see the range of colours suitable for each category in the LifeColor range.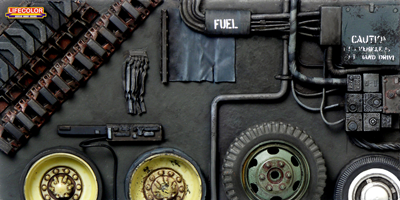 Demo piece painted with the LifeColor Shades of Black set
Using LifeColour
Clean surfaces to be painted
For airbrushing, dilute the colour to a milky consistency using water or LifeColor Thinner.
Airbrush at very low pressures. (Iwata airbrushes give the best performance and atomisation at low pressures.)
Apply colour in thin coats with a brush or airbrush
Allow to dry completely between coats
Clean your airbrush with airbrush cleaner and flush through with water
Price includes delivery to the UK mainland (excl Scottish Highlands). You can add this product to the shopping basket and pay with a credit/debit card, or with PayPal.